The YZY 350 V2 CMPCT is the newest evolution of one of the most well-known YEEZY silhouettes...and over at YEEZY MAFIA, we have an exclusive, close-up look at the new silhouette, showcased in the "Slate Red" colorway.
As the name suggests, the model is a slightly compacted variant of the well-known YEEZY BOOST 350 V2 sneaker. The collar and sock liner showcases this change best - on the original YEEZY BOOST 350 V2, there is a considerable amount of space between the collar and where your leg would be. On the YZY 350 V2 CMPCT, however, the collar of the sneaker is elasticated and hugs around the foot, giving a sock-like fit.
The YZY 350 V2 CMPCT "Slate Red" also features a different style of primeknit compared to prior YEEZY BOOST 350 models. The upper is mainly colored in a vibrant scarlet, but also features sandy brown patterning and striping which stretches from the toebox to the midfoot portion of the sneaker.
Like all other sneakers that are a part of the YEEZY BOOST 350 family, the YZY 350 V2 CMPCT "Slate Red" features an enclosed BOOST midsole. The model also features the ridged rubber sole which has become synonymous with the  YEEZY BOOST 350 silhouette - on this model, the sole is finished in a brilliant red.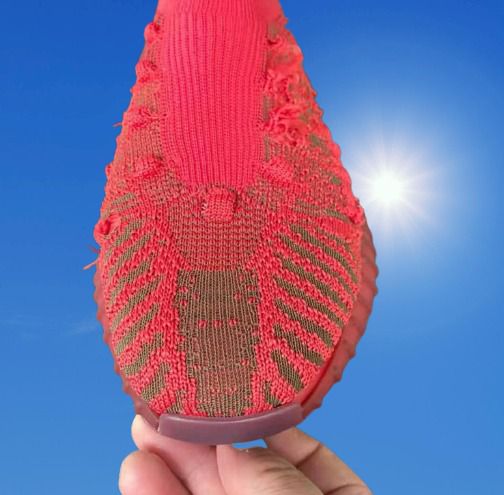 The YZY 350 V2 CMPCT "Slate Red" is expected to drop in February 2022, at a retail price of $220. The counterpart to this sneaker, the YZY 350 V2 CMPCT "Slate Blue" is expected to release later this month at the same price.
What are your thoughts on the new silhouette? Are you a fan of the new patterns on the sneaker? Let us know through our social media channels - and for more news on all things YEEZY, be sure to keep it locked to YM.